Mobile Rock Climbing Wall Rentals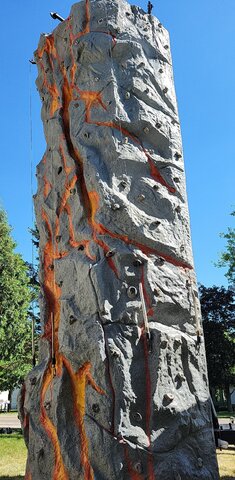 25ft - 5 bay - Lava Rock Climbing Wall
Looking for something different than a standard rock climbing wall? Jump City offers a mobile lava rock climbing wall. This puts a twist on the standard rock climbing wall and is one of a kind!

The lava rock climbing wall is great for large event or anything that will bring in long lines as this is a 5 bay wall to ensure more kids per hour. This climbing wall can be transported long distances so wether your event is in Minnesota, Iowa, North Dakota, South Dakota or even Wisconsin give us a call to get your free estimate and see how we could make your event memorable!

This 5 bay rock climbing wall has three different levels. Beginners, moderate and skilled. The 5 bay rock wall is great to test your skill to the max! Riders can be any age as long as they are more than 40 pounds and up to 240 pounds.

This lava rock climbing wall is a huge hit and often gets booked long in advance! Give us a call today to ensure you get it!
Lava Rock Wall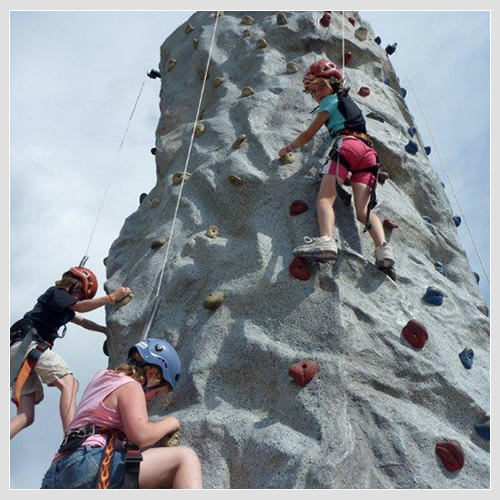 25ft - 3 bay - Mobile Rock Climbing Wall
Mobile rock climbing walls are the highlight at any event! Everyone wants to climb the rock wall to see the view from a towering 25 feet.

This 3 bay rock climbing wall is a little more cost efficient than the 5 bay lava rock climbing wall. This also means if you are outstate in Wisconsin, North Dakota, South Dakota or Iowa the travel fee may be less. This rock wall is lighter for towing and can fit in smaller places if you were to have this at a backyard party or an event where space is limited. Though the rock wall will need some extra space, ten feet around the rock climbing wall is required for safety of riders on the wall.

This wall is great for all ages between 40 pounds and 240 pounds. Our trained staff stays on site during our rock climbing wall rentals to ensure safety for all participants in the rock climbing wall challenge.
3 Bay Rock Wall
Give Jump City a call today for your free quote on mobile rock climbing wall rentals in Minnesota!